Undaunted by the economy, Obama presses ahead on healthcare reform
His introduction of Kansas Gov. Kathleen Sebelius (D) for secretary of health and human services marks an attempt to press for reforms even amid the economic crisis.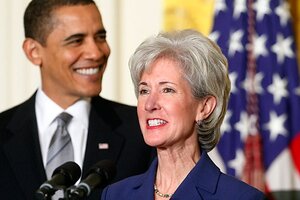 Jim Young/Reuters
President Barack Obama is pressing forward this week with plans to recast American healthcare despite the nation's worsening economic condition, ignoring criticism that he is taking on too much.
On Monday, President Obama introduced his new nominee for secretary of health and human services, Kansas Gov. Kathleen Sebelius (D), who will play a central role in the reform effort. On Thursday, the White House will hold a major policy summit about runaway healthcare costs.
Since unveiling his proposed budget last week, which includes $634 billion toward universal health coverage, critics have said reform should wait until the economy improves. But Obama insists he was elected to provide "sweeping change," and budget analysts say healthcare spending is a key factor in the nation's chronic deficits.
"The high rate of growth of healthcare costs is at the root of the nation's long-term fiscal problem," writes Robert Greenstein, executive director of the Center on Budget and Policy Priorities in Washington, in a statement on the center's website.
The costs of public healthcare programs are increasing at a rate well above overall inflation, consuming more of the federal budget.
---