Pesky earmarks still in eye of budget storm
'Member projects' are a tiny part of the federal budget, but they're a problem for Obama.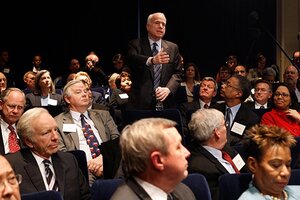 Pablo Martinez Monsivais/AP
Member projects – aka earmarks or "pork" – account for less than 2 percent of spending in the $410 billion omnibus bill on the floor of the Senate this week, but they're drawing most of the opposition fire.
The bill, which will fund government for the balance of the 2009 fiscal year, includes 8,570 earmarks worth $7.7 billion, according to a new report by Taxpayers for Common Sense in Washington.
"I just went through a campaign where both candidates promised change in Washington; promised change from the wasteful, disgraceful, corrupting practice of earmark, pork-barrel spending," said Sen. John McCain in a stem-winder on the floor of the Senate on Monday.
"We have former members of Congress residing in federal prisons. Not only is this business as usual, but this is an outrageous insult to the American people," said the Arizona Republican.
At issue is more than just the dollar amount of spending, critics say. The time and effort to secure earmarks for 1 or 2 percent of government spending take up time that members could better spend on the hard work of overseeing the other 98 percent-plus. Moreover, the success of some groups in securing earmarks encourages others to spend scarce public dollars to pay to lobby Washington.
"Members say it's a little thing that they do, but it really gets taxpayers angry," says Tom Schatz, president of Citizens Against Government Waste, which produces an annual "Pig Book" identifying member projects in spending bills.
"I think that people recognize that it's inherently unfair and disproportionate in how these earmarks get allocated – mostly to members of the appropriations committees," he says.
---