Michelle Obama rocks the bureaucracy with her star quality
For now, the first lady avoids policy issues, sticking to meet-and-greets with federal workers and citizens.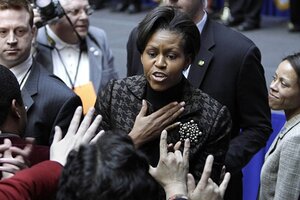 Yuri Gripas/Reuters
It's 7:00 a.m., and the line is already forming outside the Environmental Protection Agency. The attraction? First lady Michelle Obama, who is due to appear before an audience of EPA employees late in the morning – a crowd that would swell to 1,100, the White House said.
One by one, Mrs. Obama is dropping by federal agencies around Washington to give a pep talk and dispense hugs, a gesture that has sent local Obamamania in only one direction: Up.
When asked, workers can barely articulate what it is about Michelle Obama that has drawn them out on a cold morning and away from their desks (with permission, of course) to see the new first lady.
"She's a star, and I thought it would be fun to see her," said EPA contract specialist Ross Mill as he waited for last Thursday's show.
Would he have come over for a past first lady? "Probably not," he says. "I don't even know why."
Despite all the nation's pressing problems, one bright spot for the Obama administration is the running narrative about the family – Michelle, the girls, the grandma in residence, the soon-to-be adopted dog – Portuguese water dog or Labradoodle? Still no decision.
Especially in such tough times, it's pure escapist fare.
That the Michelle piece of the story has been so positive may come as a surprise. During the campaign, she made some missteps, saying, for example, that "for the first time in my adult lifetime, I'm really proud of my country." Conservative magazines tried to frame her as the "angry black woman," perhaps as a way to get to Barack when he seemed impervious to being attacked as the "angry black man."
---