Congress wrestles with home mortgage crisis
The House passed a bill giving some homeowner relief. Now it's on to the Senate.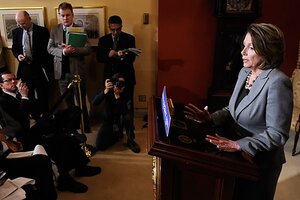 Susan Walsh/AP
Until this week, "cramdown" for a family's primary residence -- that is, a provision to allow judges to change the terms of a mortgage -- was a non-starter on Capitol Hill.
Opponents said that forcing lenders to lower principal or interest rates on a family's No. 1 home would increase interest and shift costs to more responsible borrowers.
But the deep crisis in the US housing market and the shift in power in Washington are changing votes on Capitol Hill.
This week, against robust opposition from finance industry lobbyists, the House voted 234-191 to give primary homeowners the bankruptcy option to alter the terms of loans that has long existed for second homes, vacation homes, or investment property.
Judges would have a range of options
The bill requires bankruptcy judges to consider a range of options currently unavailable to them. These include: Lowering the interest rate on a troubled mortgage to as low as 2 percent and reducing mortgage payments to no more than 31 percent of a borrower's income.
If these changes don't make mortgage payments feasible, a judge can then consider lowering the principal owed on a loan.
The proposed law also requires homeowners to demonstrate that they have used available options to modify loans with lenders on their own, including the Obama administration's voluntary refinancing program.
---