Obama reverses Bush on stem cells
Scientists had charged the former administration with political interference.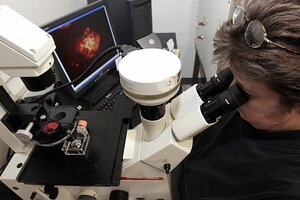 Paul Sancya/AP/File
As promised during the campaign, President Obama has lifted federal restrictions on embryonic stem cell research put in place in 2001 by President Bush.
In announcing the policy change Monday morning, achieved by executive order, the president also signed a memorandum aimed at shielding the federal government's involvement in science from political influence. The dual moves represented a sharp departure from the Bush years, when government employees – including the former Surgeon General – charged that politics was interfering with science in a range of areas, from stem cell research to climate change and reproductive health policy.
The policy moves, carried out Monday morning in an East Room signing ceremony, brought cheers from the scientific community and advocacy groups hoping for medical breakthroughs on a range of conditions.
Though Bush's policy on embryonic stem cell research was seen at the time as a compromise – in that it did allow federal funding of research on a limited number of existing lines – scientists asserted that the restrictions had effectively squelched federally based research. During that nearly eight-year period, research largely took place via state and private funding.
In his remarks, Mr. Obama himself referred to his predecessor's policy as a "ban," a characterization he repeated often during the presidential campaign. But his larger point – that the federal government will now "vigorously support" research – came though clearly.
"Today, with the executive order I am about to sign, we will bring the change that so many scientists and researchers, doctors and innovators, patients and loved ones have hoped for, and fought for, these past eight years: we will lift the ban on federal funding for promising embryonic stem cell research," Obama said. "We will vigorously support scientists who pursue this research. And we will aim for America to lead the world in the discoveries it one day may yield."
---