Controversial 'card check' bill back for fourth time
The business community says the bill, which makes it easier for workers to unionize, would be a job killer.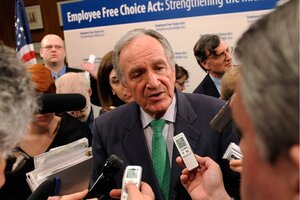 Susan Walsh/AP
Call it "Take 4" on Capitol Hill for a high-stakes bill that gives workers the right to unionize without a secret ballot – and dramatically expands government's role in settling labor disputes.
The Employee Free Choice Act, or "card check," has been introduced in the past three Congresses, but it always failed to win the 60 votes needed to pass controversial legislation in the Senate.
With expanded Democratic majorities in both the House and Senate – and a president pledging to sign the legislation – this year may be different.
"Today is one of those defining moments [in history], as we introduce legislation that puts power back into the hands of people who are truly the backbone of our economy," said Sen. Tom Harkin (D) of Iowa in a press briefing on Tuesday.
With Rep. George Miller (D) of California, he announced the simultaneous launch of the bill in both houses of Congress.
The proposed law gives workers a choice of forming a union through majority sign-up ("card check") or an election by secret ballot. The current election process, governed by the National Labor Relations Board, strongly favors employers, unions say.
The bill also beefs up penalties for employers that discriminate against workers for their union-organizing activity, including treble back pay for workers found to have been illegally fired.
Sponsors say the legislation would improve wages, benefits, and working conditions by helping workers form unions. Critics, including a mobilized business community, say it's a job killer. Both sides have been gearing up ads and fundraising appeals.
---