Despite Steele's rough start, many in GOP optimistic
The new party chair has been mired in internal feuds, but expectations for next elections are building.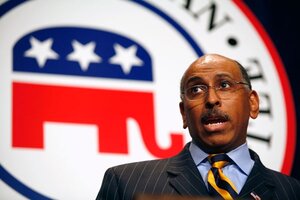 Molly Riley/Reuters/File
No doubt about it, Michael Steele has had a rough start as chairman of the Republican Party.
Mr. Steele broke with party custom – and raised fellow Republicans' hackles – by suggesting that the three GOP senators who supported President Obama's stimulus plan should face primaries in their next elections. He tussled with talk-radio titan Rush Limbaugh over who's the leader of the party and called him names, then had to apologize. In the biggest blowup, he told GQ magazine that he views abortion as an "individual choice," infuriating the social-conservative wing of his party.
In a nutshell, Steele has spent his first six weeks as party chair misspeaking and then apologizing, distracting the party from its main task of rebuilding and presenting a viable alternative to the Democrats.
Yet there is reason for optimism, say some Republicans. And his status as the party's first African-American chairman has something to do with it.
"Ultimately, I think he presents a good face of change for the party, which is why he was elected in the first place," says Whit Ayres, a Republican pollster based in northern Virginia. "It's not uncommon for new chairs to take a little while to get their sea legs. I seem to recall [former Democratic] chairman Howard Dean making a few comments that made waves early on before he got his sea legs. But his leadership, I think, has generally been praised by most Democrats since those early stumbles."
---