Lawmakers target 'outrageous' AIG bonuses
Members of both parties are mad at the insurance giant. But big questions remain over what they can do about it.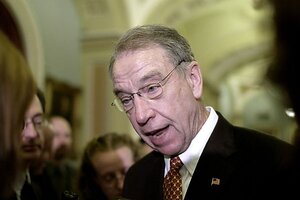 Harry Hamburg/AP
At $165 million, the bonuses at American International Group (AIG) are small change compared with the $170 billion-plus that US taxpayers have already poured into a rescue of the embattled insurance giant.
But disclosure of bonuses at the firm seen as the epicenter of a global financial crisis set off a firestorm on Capitol Hill.
"It's outrageous. My people ask: When are these people going to be put in jail," says Sen. Charles Grassley (R) of Iowa, the top Republican on the Senate Finance Committee.
Outrage was the No. 1 theme at hearings, briefings, and caucus meetings early this week – some lawmakers complained, to the exclusion of all else.
"There's a tidal wave of rage, because the taxpayer knows they are the ultimate sucker on the list of those who pay for all of the greed that has gone on in the marketplace for years and years," said Gary Ackerman (D) of New York at a hearing on the AIG bailout on Wednesday.
What's less clear is what, beyond rhetorical saber rattling, the Congress can do about it.
The first move is to summon those responsible to a battery of congressional hearings.
"We should be exercising our rights as owners of this company," said Chairman Barney Frank (D) of Massachusetts, at a hearing of a House Financial Services subcommittee on Wednesday.
---