Obama redeploys his grass-roots network to push budget
Volunteers canvassed door to door over the weekend in the first big test of his ground support.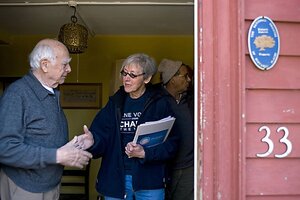 Ann Hermes/Christian Science Monitor
With the sun shining overhead and the crocuses poking through the grass, Diva and Lois Kenkare walked up Fair Street determined to bring President Obama's budget battle home to their neighbors.
"Hopefully, we can make an impact," said Ms. Kenkare, as she approached a house armed with a stack of pledges and the aim of helping Mr. Obama win the votes he needs to pass his record $3.6 trillion budget.
In what's shaping up to be a different kind of permanent campaign than is usually waged by Washington's political consultants, thousands of volunteers across the country took to the streets over the weekend at Obama's behest. They knocked on doors, stood in front of stores to collect signatures, and urged their neighbors to call their congressman.
With this canvassing operation, the Obama administration is taking traditional presidential strategies for building public support to a whole new level.
President Franklin Roosevelt had his fireside chats and Ronald Reagan urged his supporters to call their congressmen, but Obama is asking people to give up their time and engage their neighbors in policy battles usually waged within Washington's Beltway.
"What the Obama team is trying to do is far beyond what any president has tried to do before. Take the enthusiasm and activism that helped him win the presidency to help him win his political agenda," says Stephen Farnsworth, a professor of communication at George Mason University and the author of "Spinner-in-Chief: How Presidents Sell Their Policies and Themselves."
---