Treasury Secretary Geithner: selling a lending plan and himself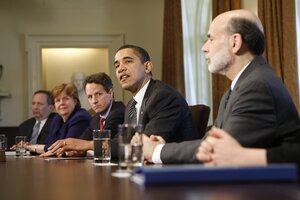 GERALD HERBERT/AP
At 8:55 a.m. Monday, Treasury Secretary Timothy Geither strode into a room packed with reporters to sell a new plan to unfreeze bank lending so consumers and businesses can get loans.
The mind-numbing details occupy 17 pages of a Treasury Department fact sheet that reporters were given before Mr. Geithner's 36-minute appearance. The quick version: The government will work with private investors to purchase between $500 billion and $1 trillion of bad loans and securities that have been clogging the nation's financial system.
A plan that dominates
A youthful looking Geithner, dressed in blue suit, blue shirt, and red tie, argued that without the plan there would be "greater headwinds for the economy and deeper recession." Warming to the sales job, he added that, "this scheme dominates all the alternatives."
Beyond selling the government's latest effort to resolve the largest financial crisis since the Great Depression, Geithner's other task this morning was more subtle but equally urgent. He needed to convince the gathering of some 90 reporters – and the public – that he is qualified to lead the Obama administration's economic-recovery efforts.
---