Geithner's big week with Congress, bank plan
The Treasury secretary begins to find his footing after a shaky start.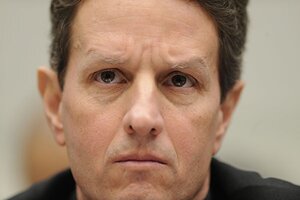 Susan Walsh/AP
Embattled Treasury Secretary Timothy Geithner moved into image rehabilitation mode this week, even as he faces continued criticism that his economic rescue plans are showering undeserved benefits on firms such as AIG.
Public outrage over bonuses paid at that bailed-out insurance firm won't be easy to defuse, especially as more Americans lose their jobs. On Tuesday, Mr. Geithner was in the hot seat again on this issue, at a Capitol Hill hearing.
Being point man for bailouts is just one challenge he's faced in a shaky start that has stirred talk about whether President Obama might have to replace him. But it now appears that Geithner will stand or fall by whether his policies work going forward, not on early missteps. Among the signs:
- His plan to deal with so-called toxic assets of banks, unveiled Monday, was better received than an early outline of his bank-rescue plans.
- At the hearing Tuesday, concern about AIG was channeled partly in a positive direction: on the need for legislation so that in the future the government can better manage the shutdown of large failed firms that pose a risk to the economy.
- Mr. Obama has voiced strong support for his Treasury chief.
"The only thing that matters here is the judgment of the president," says Robert Shapiro, who served President Bill Clinton as undersecretary of Commerce for economic affairs, now at NDN, a left-leaning think tank in Washington.
---