Obama defends recovery plan, cites progress
In a prime-time press conference, he said reviving the economy will take "many months" and "many solutions."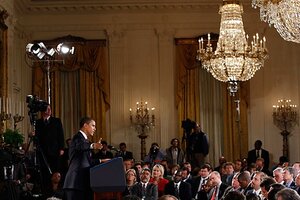 Gerald Herbert/AP
With his young administration about to enter a crucial few weeks, President Obama at a March 24 press conference vigorously defended his approach to fixing the economy – and insisted that the ice of frozen US credit and business activity may be starting to thaw.
The 35-day-old stimulus bill is beginning to create jobs in advance of a spike in bridge and road work, said Mr. Obama in his East Room appearance, broadcast in prime time on all the networks. Home refinancings are up. House sales are stabilizing in some areas of the country.
"We're beginning to see signs of progress," said Obama.
But the recession wasn't created overnight, and it won't break up quickly, either, warned America's chief executive.
"It will take many months and many different solutions to lead us out," he said.
Economic questions dominated the new president's second full-dress meeting with the Washington press corps. This was due both to the overriding importance of the issue and the timing of upcoming congressional actions.
Lawmakers are currently drawing up overall budget proposals that will – or won't – contain much of Obama's ambitious first-year agenda. Thus, the president was pressed repeatedly on whether his education, expanded healthcare, and emissions-control plans are affordable, or whether they will simply burden future generations with debt.
Those proposed moves are investments needed to ensure that the US economy will show robust growth in coming years, argued Obama. Clean-energy jobs could be a big economic driver, for instance.
"The biggest driver of long-term deficits is the huge [growth in] healthcare costs . . . we have to tackle," said the president.
As to whether voters should back the administration's call for even greater authority to bail out financial institutions, in the wake of the national uproar over executive bonuses handed out by government ward AIG, Obama said, "I'm as angry as anybody" about the bonus packages.
---