Fast-track on the budget – does that mean Republicans would get steamrolled?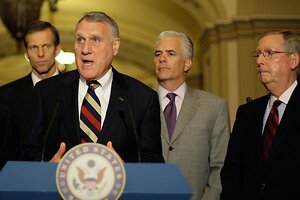 Alex Brandon/AP
House leaders rolled out a big gun this week in the budget wars on Capitol Hill that could tip the outcome for top priorities in President Obama's first budget -- energy, education, and healthcare.
In a bid to move these issues, House Democrats inserted into their version of a budget bill the option of a fast-track process called reconciliation.
If deftly used -- that means getting past complex procedural objections -- it can squash a Senate filibuster and move big bills on a simple majority vote.
"We want a robust [healthcare] initiative about prevention, about biomedical research, about health IT, about community health centers reaching out, personalized, customized care," said House Speaker Nancy Pelosi at a briefing on Thursday. "I think the best prospect for that to happen is to do it under reconciliation."
No issue so inflames partisan passions, especially in the Senate where the standard of 60 votes for major legislation is now the norm.
Democratic power play?
"If they want to steamroll the minority, obviously, some kind of reconciliation vehicle would be the best way to do that," said Senate Republican leader Mitch McConnell. "However, it's a big gamble, because if you do it with no bipartisan buy-in at all, you own the whole thing politically."
---
Follow Stories Like This
Get the Monitor stories you care about delivered to your inbox.