Obama's strategy for Afghanistan and Pakistan
The President's plan for the increasingly troubled region is ambitious, although his goals are more limited than Bush's.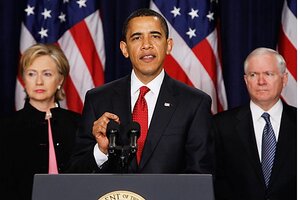 Ron Edmonds/AP
President Obama unveiled a new Afghanistan and Pakistan strategy Friday that includes new troops -- beyond the 17,000 additional US soldiers the president has already ordered ­ new civilian development personnel, and new aid.
But the plan also for the first time sets benchmarks – or, as the president preferred to call them, "metrics" – for US involvement in both Afghanistan and Pakistan, suggesting the military engagement is not open-ended and that both the Afghan and Pakistani governments must deliver on particular objectives. Those include reining in corruption for the Afghans and closing down Al Qaeda and Taliban safe havens for the Pakistanis.
The new "comprehensive" strategy underscores how both Afghanistan, where 38,000 US troops are already on the ground, and Pakistan, a nuclear power threatened by a growing Islamic militancy, are crucial to the battle with Islamic extremism. The futures of the two countries are "inextricably linked," Mr. Obama said.
In explaining the new strategy before an audience of military and diplomatic officials and flanked by Secretary of State Hillary Clinton and Defense Secretary Robert Gates, Mr. Obama invoked the memory of the 9/11 attacks more forcefully than ever before in his young presidency.
He revisited the history of Al Qaeda planning the attacks from camps in Taliban-controlled Afghanistan, and he insisted that Al Qaeda is now "actively planning attacks on the United States" from "safe havens in Pakistan." As a result, Obama says, "For the American people, this border region has become the most dangerous place in the world."
---