Blagojevich is still everywhere – and some can smile about it
Illinois' ex-governor, the subject of a hit musical, is relentlessly seeking the limelight. Will it help him if he ends up going to trial?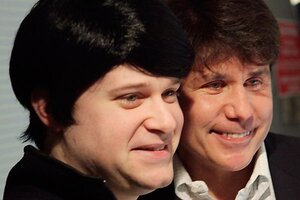 Charles Rex Arbogast/AP
The wig gets the first laugh.
The mighty mane, atop the cranium of comedic improviser Joey Bland, is revealed under the blaze of red stage lights. Upon catching a first glimpse, the Chicago audience howls, knowing before even a word of dialogue is spoken what that coiffure means: Gov. Rod Blagojevich is back.
Well, his 'do is back, anyway. It's caked in hairspray each night to replicate the famous uber bangs of the title character, subject of a new musical now in its second sold-out run since opening in early February. "Rod Blagojevich Superstar!" is more than just another hit show by Second City, Chicago's comedy institution. It's also something of a cathartic outlet for Illinoisans who have seen one of their government institutions slammed in national headlines, once again, over political corruption.
Pay-for-play politics is certainly not new to people in and around the Windy City, but the arrest last December of the governor and his subsequent impeachment were rude reminders, coming off the elation of electing a US president from the neighborhood.
---