House fast-tracks major changes on energy and climate
But how much will they cost Americans, particularly during a recession?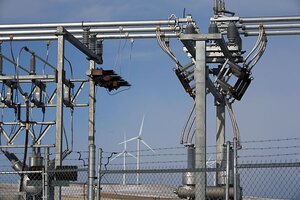 Melanie Stetson Freeman/The Christian Science Monitor
Congressional Democrats have launched a bid to shift the United States into greener energy technologies, while protecting US consumers and jobs during a difficult transition.
The draft plan, released Tuesday by the House Energy and Commerce Committee, moves one of President Obama's key campaign pledges onto a fast track on Capitol Hill. It also opens a debate over how America powers its economy – one that crosses party and regional lines – at a time of deep economic stress.
"This legislation will create millions of clean-energy jobs, put America on the path to energy independence, and cut global warming pollution," said Rep. Henry Waxman (D) of California in a statement.
The bill's main elements
The bill has three main elements: developing clean energy sources, dramatically boosting energy efficiency, and capping and reducing greenhouse-gas emissions. The bill also aims to protect US consumers and industry during the transition to a clean energy economy.
Development of wind energy, solar energy, geothermal energy, smart-grid efforts, and new transmission lines would be accelerated, and there would be a new standard for utilities to meet regarding use of renewable sources for generating electricity. Utilities in all states would be required to gradually increase the proportion of renewables to 25 percent by 2025. The measure would also set a low-carbon standard for transportation fuels and push to reduce coal emissions by developing technologies to capture and sequester carbon.
---