New York race undecided, but Dems claim victory of sorts
In a special congressional election seen as a test of Obama's coattails, the Democrat leads by 59 votes, with thousands of absentee ballots still to be counted.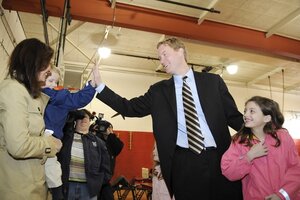 RICK GARGIULO/ THE SARATOGIAN/ AP
The much ballyhooed special congressional election here in New York's North Country remains too close to call the morning after voting ended.
As the first congressional election to be held after President Obama's inauguration, pundits have characterized it as an early referendum on Mr. Obama's short but active tenure in office. It is also seen as a proving ground for controversial Republican National Committee chairman Michael Steele, who made winning the seat a top priority.
With 100 percent of the precincts reporting in this once-safe Republican stronghold, Democrat Scott Murphy holds a narrow 59 vote lead over Republican Jim Tedisco with at least 5,000 absentee ballots yet to count. A final victor may not be known until April 13, the deadline for overseas ballots to arrive in state. Then there are potential legal challenges.
Still, some Democrats are already claiming a victory of sorts. There are 70,000 more registered Republicans than Democrats in this mostly rural district that reaches from just south of Canada to an hour north of New York City. Moreover, Democrats fielded a relatively unknown candidate against a well-known Republican state Assembly leader. Yet the Democrat is leading – albeit by a negligible margin.
"If somebody's smiling – or at least not crying yet – it's the Democrats," says Doug Muzzio, a New York political analyst.
---