Blagojevich indictment outlines more pay-to-play schemes
Illinois' ex-governor asserts his innocence, saying he'll 'fight in the courts' to clear his name.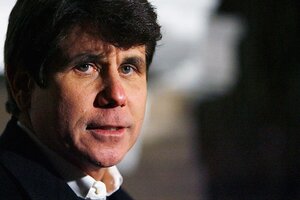 Nam Y. Huh/AP/File
Federal indictments handed down Thursday against former Illinois Gov. Rod Blagojevich and five associates present a picture of an administration that, at its very inception, sought to trade official actions for personal enrichment – in direct opposition to Mr. Blagojevich's campaign promise to clean up government corruption.
The indictments by a federal grand jury point to a "wide-ranging scheme to deprive the people of Illinois of honest government," according to a statement from the US Attorney's office in Chicago. Government prosecutors did not make any public appearances upon the return of the indictments, which are part of an extensive government corruption probe.
The indictment charges Blagojevich with 11 counts of wire fraud, two counts of extortion conspiracy, and one each of racketeering conspiracy, attempted extortion, and making false statements to federal agents, dating back to 2002. Collectively, the counts against Blagojevich amount to a maximum of 305 years in prison. Charged with Blagojevich were five associates, including his brother, Robert Blagojevich, for a total count of 19 indictments.
Power politics
---