Eric Cantor on Limbaugh and on Washington overreacting to the economy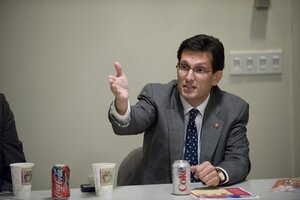 ROLLCALLPIX/ NEWSCOM/ FILE
House Republican Whip Eric Cantor warned Thursday that the budget House and Senate Democrats are poised to pass is a "radical departure from what most Americans think" government spending should be and risks overreacting to the nation's economic crisis.
When word of Cantor's comments at a Monitor-sponsored breakfast were posted on Politico.com, the Democratic Party responded immediately. "On the day we learned that jobless claims rose to their highest levels in 26 years, Eric Cantor's charge that anyone is 'overreacting' to this economic crisis typifies the Republican just say 'No' approach," said Democratic National Committee spokesman Hari Sevugan in a statement.
Rush's role
Mr. Cantor, the second-ranking Republican in the House, spoke of overreacting in response to a question about Rush Limbaugh's role in the GOP. "Rush has got ideas. He's got following. He believes in the conservative principles that many of us believe in -- of lower taxes, or making sure that we turn back towards a focus on entrepreneurialism in this country, to promoting innovation and not stamping that out by overreacting, if you will, which this town often does, to crisis," Cantor said.
He then went on to paraphrase President Obama's chief of staff, Rahm Emanuel, as saying, "we are not going to miss the opportunity to take advantage of this crisis because we are going to do all the things we couldn't get done before."
Obama's grade: incomplete
---