Franken tightens grip on Senate seat, but lawsuit looms
The counting and recounting ends in Minnesota, with Democrat Franken leading Republican Coleman by 312 votes. But Coleman can still appeal the outcome.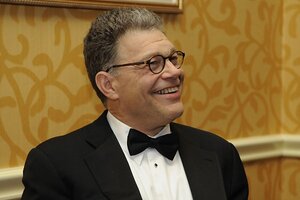 Alexis C. Glenn/UPI
A winner was finally tallied Tuesday in Minnesota's US Senate contest between Democrat Al Franken and Republican incumbent Norm Coleman. But that does not yet mean there's a final victor.
The two candidates' battle to win the seat began in November and has already involved a 47-day ballot recount and a subsequent eight-week contesting of 350 formerly rejected absentee ballots. The counting of those ballots, finished Tuesday, resulted in Mr. Franken capturing 198 ballots to Mr. Coleman's 111, boosting Franken's lead to 312.
Franken won the initial ballot recount in January by 225 votes in what is considered the tightest election in Minnesota history.
But in all likelihood, this is not the final chapter. The stakes are high. If Franken wins, he will take the Democrats to 59 seats in the Senate – one short of the number needed to break Republican filibusters. Under Minnesota law, Coleman can appeal to the state Supreme Court, and his lawyers have suggested they might go further, taking their case to the US Supreme Court.
Coleman's lawyers "have a great case" due to evidence that absentee ballots were handled differently in separate districts, says Sarah Janecek, publisher of Politics in Minnesota.
"When you have a race this close, this is where you see the warts [in the process], and it's not going to be pretty," she says.
Minnesota's procedure for contesting close votes is unique among the 50 states, says Mark Ritchie, Minnesota's secretary of State. The three-step process – a recount, a contesting of the election results, and an appeal to Minnesota Supreme Court – is time-consuming. But Minnesotans also say it is fair.
---