Obama's immigration plan a 'poison pill' for Congress
Lawmakers have proved reluctant to touch the topic because it can burn them in primary season.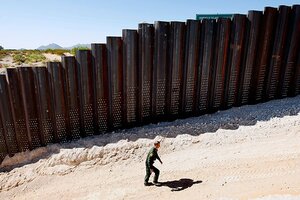 Tom Pennington/Fort Worth Star-Telegram/MCT
President Obama's plan to start work on immigration reform – reaffirmed by White House staff this week – launched two sharply different views on how it will impact his domestic agenda.
Supporters applaud Mr. Obama's holistic approach, arguing that all the interrelated issues of the economy, healthcare, and homeland security must be dealt with together. But to others, immigration reform is one of the most divisive issues in American politics – a "poison pill" that could sour the mood in Congress and clip the president's momentum.
By adding it to his "to do" list, Obama is putting lawmakers on both sides of the aisle in a bind, forcing them into votes that can then be wielded against them on the campaign trail.
"Democrats have to worry about offending Latino voters – that would create problems in primaries," says John Pitney, a political scientist at Claremont McKenna College in Claremont, Calif. "Republicans have to deal with the enforcement-only folks, also in primaries."
The last bid for comprehensive reform legislation derailed in the Senate in June 2007. Republicans who were willing to support then-President Bush on immigration aren't as likely to take political risks for a Democratic president.
"If Republicans have learned nothing else, it's that their primary electorates don't look kindly on anything that looks like amnesty," says Mr. Pitney.
---