'Pig Book': Congressional 'pork' hits $19.6 billion in 2009
Citizens Against Government Waste released its annual report on 'pork barrel' projects Tuesday.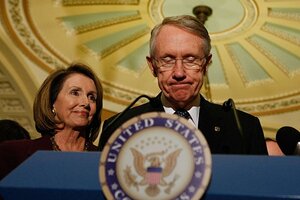 Pablo Martinez Monsivais/AP
Capitol Hill lawmakers added 10,160 pet projects – aka "pork barrel" projects – to this year's government spending, fewer than in the previous budget cycle but at a higher total cost.
That's the bottom line from the Pig Book, a list of member projects inserted in annual spending bills, released Tuesday by Citizens Against Government Waste (CAGW). The watchdog group, which has issued the Pig Book each year since 1991, calls it "the book Washington doesn't want you to read."
For the record: The 10,160 projects – valued at $19.6 billion – represent a 14 percent increase in the cost to taxpayers over last year's spending on "pork." That's even though the number of projects went down 12.5 percent during the same period.
"Everyone in Washington has promised a new era of transparency and restraint in earmarks, from President Obama to the leaders of both parties in Congress," said CAGW president Tom Schatz in a briefing Tuesday. "Sadly, the hard numbers from the 2009 appropriations bills tell a different story. The current Democratic congressional majority is following the same trajectory as their Republican predecessors. They came into power promising to cut earmarks and made a big show of it during their first two years. However, as the 2009 Pig Book amply illustrates, pork-barrel spending is growing fast."
Ferreting out sponsors of congressional earmarks was once devilishly complex. But as of fiscal year 2008, Congress has required members to identify their own earmarks. Does that mean the Pig Book is obsolete?
---