'Regular Joe' plays a key White House role
As vice president, Biden is yin to Obama's yang. But he's definitely no Cheney.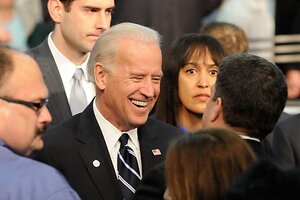 Jim Mone/AP
Joe Biden leans into the microphone and tells the assembled Washington elites just how important he has become to his new boss, Barack Obama.
"To give you an idea of how close we are," the vice president says at the annual Gridiron dinner of journalists and politicos, "he told me that next year – maybe, just maybe – he's going to give me his BlackBerry e-mail address."
Ba-da-boom.
By many accounts, Vice President Biden is, in fact, a key player in the Obama White House, with a finger in most of the central issues of the day. Whether it's going to Munich, Germany, to deliver the administration's first major foreign-policy address or traveling around the country as head of the Middle Class Task Force and chief enforcer of stimulus spending or attending most of President Obama's daily briefings, Mr. Biden appears to enjoy the confidence of the boss – and plenty of face time.
But then there are the jokes, implying that Obama may find his understudy a bit annoying at times. Biden, after all, is famously long-winded and gaffe-prone, tending to speak emotionally and from the heart. Obama, though nearly 20 years his junior, is more composed and cerebral.
"I would liken it to a marriage," says Allan Loudell, a longtime political analyst at WDEL-AM in Wilmington, Del., Biden's hometown. "It's like a couple who are the reverse of one another, yin and yang. And it seems to be working."
---