Obama says CIA memos could yet lead to charges
Those who wrote the memos are not in the clear, he says, but any investigation must be above partisanship.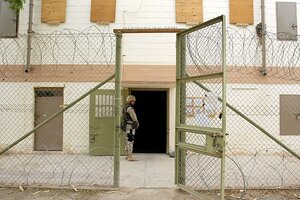 Khampha Bouaphanh/AP/pool/file
The Obama administration's release of secret memos on "enhanced interrogation" techniques is testing the president's commitment to keep the nation looking forward, not backward.
Today on Capitol Hill, the debate about who – if anyone – should now face prosecution for abuses that critics say could amount to torture continued to gain momentum.
As recently as Monday, the administration's course had seemed clear.  To a cheering crowd at the Central Intelligence Agency headquarters in Langley, Va., President Obama said: "You need to know that you've got my full support."
Yet today he suggested that the officials who crafted the memos could still face legal action. The comment comes as Democrats on Capitol Hill – including some who fought for years to release the Bush-era documents – rebuked the president.
Sen. Dianne Feinstein (D) of California urged Mr. Obama to avoid any comment on holding people accountable for "detention and interrogation-related activities" until after the Select Committee on Intelligence, which she chairs, completes a review.
"This study is now under way, and I estimate its completion within the next six to eight months," she wrote in a letter Monday.
---