Nancy Pelosi in the political hot seat
She's questioned about an embattled colleague, whether to investigate Bush-era abuses.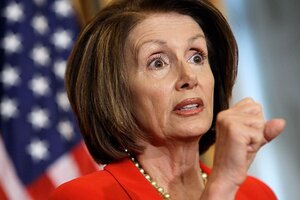 Haraz N. Ghanbari/AP
House Speaker Nancy Pelosi confirmed today that she had been briefed on government wiretaps of Rep. Jane Harman (D), but never took up the issue with her embattled California colleague.
"The tradition is that when a member of Congress is overheard in a wiretap that the leadership is informed and that happened at that time," she said at a morning round-table sponsored by The Christian Science Monitor. "It was not my position to raise it with Jane Harman. In fact, I didn't even know what they were talking about."
The topic of that 2005 phone conversation was a quid pro quo, according to leaked press accounts this week first reported by The New York Times and Congressional Quarterly. Harman reportedly agreed to help reduce criminal charges against two former officials of the American Israel Public Affairs Committee, accused of espionage, if they would pressure Pelosi to keep her on as the top Democrat on the House Intelligence panel after 2006 elections.
---