Michelle Obama now more popular than Barack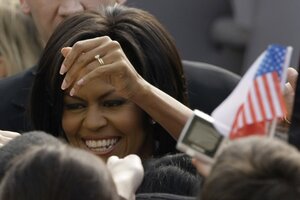 HERBERT KNOSOWSKI /AP / FILE
As the Obama presidency nears the 100 day mark, a new survey shows first lady Michelle Obama is even more popular than her husband.
Topping Barack Obama's personal favorability ratings is not easy. A new report from the Pew Research Center for the People & the Press found 73 percent of Americans hold a favorable view of the President. Even 46 percent of Republicans say they have a favorable view of him, while 96 percent of Democrats hold Obama in high personal esteem.
Enthusiastic supporters
"This is a president who the base really likes," says Andrew Kohut, Director of the Pew Research Center. He was the guest at a Monitor-sponsored breakfast for reporters on Thursday.
Michelle Obama is now viewed favorably by 76 percent of the public -- up from 68 percent in early January. That gives her a personal favorability rating above the President's and makes her substantially more popular than her predecessors, according to Pew data. At a roughly comparable time in their husband's presidency, Laura Bush had a favorable rating of 64 percent and Hillary Clinton 60 percent.
Michelle woos GOP women
Much of the increase in Mrs. Obama's popularity has come from Republicans, particularly Republican women, Kohut said. Some 67 percent of Republican women now have a favorable view of Mrs. Obama, a gain of some 21 points since January.
---