Obama administration pursues two-state Mideast solution
The president will meet with three leaders from the region in coming weeks. Meanwhile, special envoy George Mitchell finds it tough going.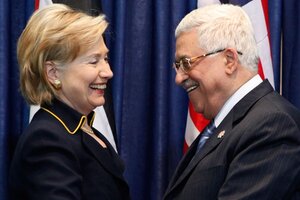 Bernat Armangue/AP
President Obama plans to host the principles in the moribund Israeli-Palestinian peace process in separate White House visits over the coming weeks -- signaling the administration's determination to pursue the two-state solution to the conflict.
By inviting the leaders of Israel, Egypt, and the Palestinian Authority to high-profile Washington visits, Obama is underscoring his administration's adoption as its own of the path to creation of a Palestinian state first articulated by former President Bush in 2002.
The difference is that Obama is making peace a priority from the outset of his administration, while Bush waited until the final months of his mandate -- a point that was too late for progress, most experts in the region say.
"With these invitations, Obama is stressing that his administration is committed to advancing the peace process from day one, and thus he's differentiating himself from the Bush administration, which waited until the end," says Patrick Clawson, deputy director of the Washington Institute for Near East Policy (WINEP).
The administration may however be setting up a clash with Israel over priorities. Under newly elected conservative Prime Minister Benjamin Netanyahu, Israel is shifting the peace process to a slow-cook back burner and moving Iran and its nuclear program to the front and high heat -- a priority flip the administration is already signaling it does not favor.
---