Swine flu as pork: Congress cut flu money from stimulus bill
Obama wanted $850 million for pandemic preparedness. Congress said no.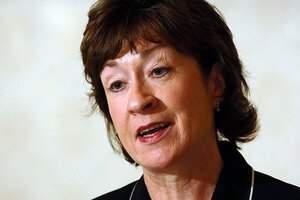 Andy Nelson/ The Christian Science Monitor
The spread of the swine flu is casting new light on a compromise deal to cut $850 million in pandemic preparedness from the Obama administration's economic recovery package.
In February, when a bipartisan group of Senate negotiators wanted to lop $110 billion off President Obama's plan, the move generated little controversy: Pandemic preparedness was not seen to be a matter of economic stimulus.
But as cases of swine flu mount in Mexico and the United States, critics – such as a blogger for The Nation – are calling the move shortsighted. An outbreak similar to the one that hit the US in 1918 could result in a 1 to 4 percent decline in US gross domestic product, according to a 2006 report by the nonpartisan Congressional Budget Office.
Those involved with proposing the cut have found themselves on the defensive, particularly Sen. Susan Collins (R) of Maine. She negotiated cutting pandemic preparedness funding from the stimulus plan as part of a compromise deal.
---