Specter: Reagan's GOP is gone
On Sunday talk shows, he says the 'big tent' party of Reagan and the late Jack Kemp has been replaced by rigid conservatism.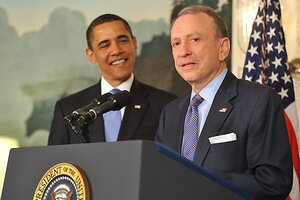 Ron Sachs/CNP/Newscom
Sen. Arlen Specter (D) of Pennsylvania and leaders of the party he bolted last week surprisingly struck a chord of near agreement in discussing the future of the Republican Party Sunday.
The question of whether the party can stage a revival without welcoming Northeastern moderates came to the fore on television talk shows Sunday morning.
On NBC's "Meet the Press," Senator Specter blamed the inner workings of the conservative movement for his own departure, and suggested that "there has to be room for people who are moderates."
Appearing later on the same show, some Republican figures essentially agreed with that assessment, even while they did not endorse all of Specter's remarks.
Joe Scarborough, a conservative commentator and former Republican congressman from Florida, said the party needs to take a page from Democrats, who have become more competitive in some hard-to-win districts by recruiting candidates who don't toe the party line on issues such as gun control or abortion.
Ed Gillespie, a former chairman of the Republican National Committee, threw some weight behind this view, commenting that the most important vote that a lawmaker in Congress makes is the one that determines which party sets the agenda in the House or Senate.
---