Obama targets tax havens, and corporate America shudders
The plan to crack down on individuals who hide cash in foreign accounts has broad support. But eliminating tax havens for American companies could put them at a disadvantage internationally, experts say.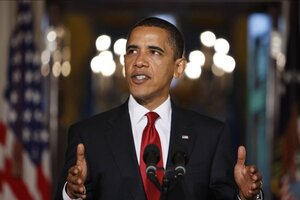 Charles Dharapak/AP
President Obama vowed Monday to curtail the tax benefits of US companies and individuals who stash cash in overseas accounts.
Ending such "abuse," according to Mr. Obama, could save US taxpayers tens of billions of dollars over the next 10 years – money badly needed to help reduce looming deficits.
Getting Congress to approve such changes might be difficult, however. Big multinational corporations will fight hard to block the portion of Obama's plan that applies to them, as they claim it could put them at a disadvantage in comparison to foreign competitors.
"President Obama's proposals should only be considered in the context of broader tax reform that is designed to increase the competitiveness of US companies," said John Castellani, president of the Business Roundtable, a Washington association of big US firms.
Treasury Secretary Timothy Geithner and Obama announced their proposed changes at a mid-morning White House press event. The administration's basic goal is to end "indefensible tax breaks and loopholes which allow some companies and some well-off citizens to evade the rules that the rest of America lives by," said Secretary Geithner.
The move to target individual tax dodgers has significant international support. But the US is virtually alone among nations in taxing the overseas profits of its domestic corporations. Now, Obama would like to see that tax applied more strictly.
---