Foreclose vs. resetting mortgages: the fight goes on
The Senate nears a vote on a bill to help ease the foreclosure crisis, as banking and real estate lobbies successfully resist efforts to let courts adjust terms of mortgages.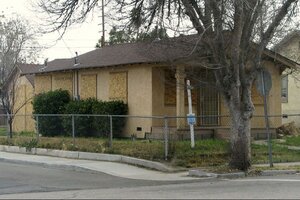 Dan Whitcomb/Reuters
Congress is moving closer to enacting a law intended to ease a foreclosure crisis affecting more than 8 million families, not to mention the powerful financial services and real estate industries.
But the legislation that will come before the Senate, possibly as soon as Tuesday, will not contain all that President Obama wanted – namely, new authority for bankruptcy courts to rewrite the terms of mortgage loans on individuals' primary homes. That piece of the measure died last week, in a fractious vote that drove a wedge in the Democratic majority and, some say, revealed the immense power of the banking and real estate lobbies in Washington, which opposed it.
A more charitable view is that the coming vote will test lawmakers' willingness to pit their own views on how best to resolve the housing-led financial crisis against the views of the banking industry.
While the banking industry fought giving mortgage-rewrite power to bankruptcy judges, it supports much that remains in the bill, such as raising borrowing authority for the Federal Deposit Insurance Corp. to $100 billion, up from $30 billion, and permanently increasing FDIC deposit insurance for Americans to $250,000, up from $100,000 last year.
If the Helping Families Save Their Homes Act passes the Senate without the mortgage-rewrite amendment, that provision could yet be added to the bill during conference negotiations with the House. A comparable bill, including the bankruptcy reform provision, cleared the House on March 5 by a vote of 234 to 91.
During negotiations last week over the contentious loan-modification amendment, banks did win some concessions from Democratic lawmakers.
---