Gallup: Obama strong, but gay marriage, big gov't could be tricky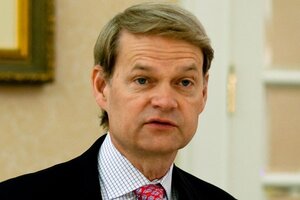 Michael Bonifigli
While Barack Obama is flying high in public opinion polls, there could be trouble ahead on the issues of same sex marriage, big government, and party identification, according to Frank Newport, Editor in Chief of the Gallup Poll.
"The data actually show some areas of concern for the Democrats," Newport said at a Monitor-sponsored breakfast with reporters on Tuesday. In addition to his role at Gallup, Newport is the incoming president of the American Association for Public Opinion, the nation's largest association of public opinion and polling professionals.
Still mostly sunny
Of course, the possible trouble areas Newport outlines for Democrats have to be viewed against a political backdrop that is far from encouraging for Republicans. President Obama's job approval rating is a robust 67 percent.
And as non-partisan political analyst Charlie Cook [no relation] says in his latest column, "Half a year past a second-consecutive devastating election for Republicans -- in which they went further in the hole in the House and Senate and lost the presidency -- are they any better off now? Are there any signs of a rebound? The short answer would appear to be 'no'."
A conservative retrenchment
But that does not mean the Obama administration has uniformly strong support on every issue. "I do not think the public has moved radically liberal on a lot of social and values issues," Newport said. He noted that Gallup's daily polling had found "a retrenchment to the more conservative on gun control as an example."
---