For Specter and the Democrats, it was a brief honeymoon
The Pennsylvania senator has been stripped of his seniority, at least until 2011, and he hasn't exactly voted in lock step with Democrats.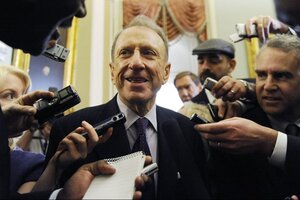 Susan Walsh/AP
It's been a rocky first week for Sen. Arlen Specter and the Democratic caucus he switched parties to join.
The Senate's newest Democrat was applauded at his first party lunch on Tuesday, where he described his differences with the GOP as irreconcilable.
But on Tuesday night, Senate majority leader Harry Reid proposed a resolution that stripped the Pennsylvania senator of his seniority, at least until a new Congress in 2011. The resolution passed the Senate by a voice vote.
It's a steep fall in an institution where seniority counts – and, on personal terms, so do promises.
Instead of being in line to chair a powerful Appropriations subcommittee, as he had expected, the five-term senator drops to lowest-ranking Democrat on all but one of his five committees – the Special Committee on Aging, where he now ranks second to last.
In a statement Wednesday, Senator Specter said he wasn't surprised that the issue of subcommittee chairmanships would not be decided until the 2010 election.
"Senator Reid assured me that I would keep my committee assignments and that I would have the same seniority as if I had been elected as a Democrat in 1980," he said. But he added, confirming grumblings from within the Democratic caucus: "Some members of the caucus have raised concerns about my seniority, so the caucus will vote on my seniority at the same time subcommittee chairmanships are confirmed after the 2010 election."
---