Belatedly, House votes to curb predatory lending
Backers of the legislation, which passed Thursday, say it will prevent any future wave of foreclosures like the one that has engulfed the US housing market.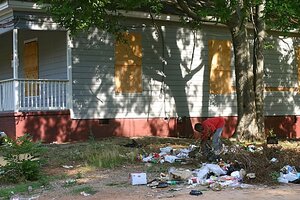 Patrik Jonsson/The Christian Science Monitor/file
The Mortgage Reform and Anti-Predatory Lending Act, which passed the House Thursday, comes a decade or so late. With US credit markets in retrenchment, the spike of abusive lending that spurred the subprime mortgage crisis no longer exists.
Moreover, the Federal Reserve has already adopted rules to curb predatory lending, on track to take effect in October. Meanwhile, banks have tightened their own lending standards, helping to further squeeze credit availability, according to the Fed's survey of senior loan officers, released Monday.
So what's the point of a new law now? It's to avert a recurrence of today's high default and foreclosure rates and to provide additional consumer protections, supporters say.
The law bans mortgage lenders from approving a loan that a home buyer clearly can't repay. It also requires that mortgage refinancings provide "a net tangible benefit" to the consumer.
The act would also mandate, for the first time, that lenders who originate mortgages keep "skin in the game" – that is, retain at least 5 percent of the risk when a mortgage is bundled into securities and sold to another party.
A catalyst to new problems, critics say
Critics, including many House Republicans, say the proposed law will overreach and create new problems of its own.
---