Why healthcare providers joined forces with Obama
In 1993, they were a major factor in defeating President Clinton's proposals. But this time around, industry leaders sense change is inevitable, and they want a voice.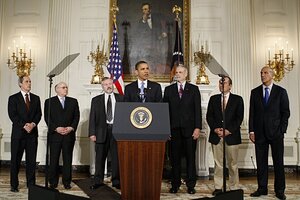 Charles Dharapak/AP
There has been a sea change in the long struggle over healthcare reform in Washington.
The last time a Democratic president took office promising major health reform, 16 years ago, the effort crashed amid fervent opposition by key groups in the healthcare industry.
Today, many of those same groups have voluntarily come to the table, ready to deal. On Monday, President Obama announced a commitment from a half-dozen health-industry trade groups to reduce the growth of healthcare spending significantly, with a potential savings of $2 trillion over 10 years.
Industry groups see that momentum is building toward reforming the system – and they want to be inside the tent affecting the outcome, not outside having decisions forced upon them.
"There is an aura of inevitability that legislation is going to pass, and as a result, the various stakeholders want to be part of the process," says Ron Pollack, executive director of Families USA, an advocacy group for healthcare reform. "There's a context of cooperation that we've never seen before."
Healthcare now represents 17 percent of the nation's economy, and that percentage is growing as inflation in health services has long outstripped overall inflation. Left unchecked, healthcare would account for 21 percent of the US gross domestic product by 2019, according to administration officials.
---