Iraq general swayed Obama on detainee photos
Gen. Ray Odierno, along with other top defense officials, argued that releasing the images of alleged detainee abuse would endanger US troops abroad.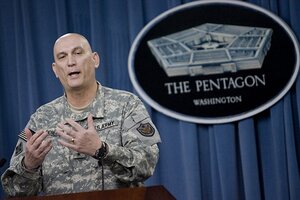 Evan Vucci/AP
In a reversal of his previous position, President Obama will now oppose the release of more than 40 photos allegedly showing detainees being mistreated after deciding that releasing them could put American troops in danger and inflame anti-US sentiments abroad.
The change of heart apparently came after Gen. Ray Odierno, the top commander in Iraq, made a personal plea to the White House against releasing the images because they would endanger US troops in Iraq and Afghanistan. The images are thought to show US troops mistreating detainees overseas in ways reminiscent of the 2004 Abu Ghraib prison scandal.
The photos were to be released before May 28 per a federal judge's order. Mr. Obama's reversal now means that the administration will appeal that ruling. Defense Secretary Robert Gates said Wednesday during a hearing on Capitol Hill that the case could go to the Supreme Court.
With this decision, Obama has probably angered the left but scored political points on the other side of the aisle.
---