Catholics astir over Obama's speech at Notre Dame
Opposition to his appearance at Sunday's commencement puts new attention on Catholic sensibilities – and on the president's stance on abortion and stem-cell research.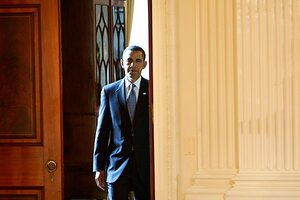 Gerald Herbert/AP/File
Landing the president of the United States as commencement speaker is like grabbing the brass ring on the graduation-day carousel – usually. But for the University of Notre Dame, President Obama's scheduled appearance Sunday as commencement speaker has touched off a gargantuan flap among Roman Catholics, not only about his policies on abortion and embryonic stem-cell research, but also about the role religion should or should not play in political life.
For a president who has taken care to embrace religious inclusivity, the vehement objections among some Catholics to his appearance at Notre Dame in South Bend, Ind., would indicate that being included may not be enough to keep certain values voters in Mr. Obama's column.
"He claims he tries to be inclusive, but that doesn't extend to practicing Catholics," says Susan Fani, director of communications at The Catholic League for Religious and Civil Rights, calling the president "hostile to Catholic beliefs." "Considering he has been in office for 100 days," she adds, "we're surprised at the pace that Catholic sensibilities have been offended repeatedly."
A split among Catholics
---