A rifle in one hand, a laptop in the other. Behind the scene with pro-gun bloggers
"Cowboy Blob" and other online commentators fill the press box at the National Rifle Association convention.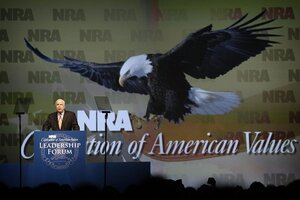 Matt York/AP
While many old-school beat reporters stayed in New York or Washington this weekend to write about conventional political and social events, the pseudonymous "Sebastian" live-blogged GOP head Michael Steele's fiery speech from the press box at the National Rifle Association convention in Phoenix.
"01:26: Steele is done and the crowd erupts in thunderous applause," he tapped. "Make that a standing ovation. He deserves it. It was a good speech. I was skeptical. I even argued with ILA over the choice privately, someone there told me 'He'll get it right. Trust me on this.' I will admit, I was wrong
"01:27: Saxby Chambliss is up, but he's phoning it in."
With some 55,000 readers a month, Sebastian, an "IT guy" from Pennsylvania who writes the snowflakesinhell.com blog, is part of a contrarian gang of gun bloggers attending the 2nd Annual Second Amendment Blog Bash here.
But here's the real news: In the press box, bloggers outnumbered national reporters by a good margin. And officially, nearly 50 bloggers -- compared to 100 mainstream print journalists -- were accredited by the NRA press office to attend the 138th annual convention.
---