Credit-card bill could hit students hardest
Young consumers are easy prey for predatory credit-card issuers. They are relying on their plastic more than ever.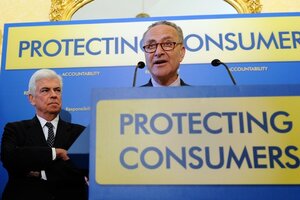 Susan Walsh/AP
The credit-card reform bill expected to clear the Senate Tuesday signals big changes in how Americans use credit, but no group will feel the impact of these changes as much as students and consumers under age 21.
On the one hand, the new law promises them the same protections it promises to the nation as a whole: more transparency, less-arbitrary rate hikes, fewer surprises in the small print. It also adds special protections for young consumers.
But may this may come at a price: less access to credit, especially among young people – precisely at a time when they are becoming more dependent upon it. Half of college students have four or more cards and are carrying an average balance of $3,173 – a record, according to the most recent survey on credit-card usage by student-loan giant Sallie Mae.
"The bottom line is that young adults are plunging into credit-card debt, in particular, on campus," said Christine Lindstrom of US PIRG, a federation of public-interest groups, during a teleconference Monday to support passage of the bill. "Unfortunately, on campus, however, they're targeted with cards that have terrible terms and conditions, and these cards are aggressively marketed to them."
The Senate version of the bill bans credit-card companies from issuing cards to consumers younger than 21, unless a parent agrees to accept financial liability for the card or the applicant can show an independent means to repay.
In addition, it limits preapproved offers of credit to young consumers and prohibits increases in the credit limit unless someone who is jointly liable approves the increase in writing.
A House version of the bill, which passed on April 30 on a bipartisan 357-to-70 vote, bans issuing credit cards to consumers under age 18 unless a parent or guardian is the primary account holder or state law allows it.
---