New auto standards: the start of Obama's green revolution
The new regulations on fuel economy and tailpipe emissions announced Tuesday are 'part of a far larger effort,' he said.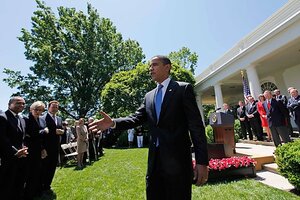 Charles Dharapak/AP
President Obama's announcement on tailpipe emissions Tuesday reaffirmed a commitment that goes beyond regulation of the auto industry. The move is part of a broader White House strategy to confront the risk of global warming while making green-collar jobs a centerpiece of the economy.
For ordinary Americans, the resulting changes could be far-reaching. Lighter-weight vehicles appear likely to become more popular. More tax dollars are being tabbed for clean-energy technology. And for years to come, college students might find that some of the hottest job opportunities lie in helping to keep the planet cool.
"The agreement we have announced today is part of a far larger effort," Mr. Obama said Tuesday as he unveiled plans to tighten carbon emissions from US cars for the first time. As a part of the plan, average fuel economy must reach 35.5 miles per gallon by 2016. He also called for additional "historic investments in a clean-energy economy."
The strategy is an ambitious one for a nation in recession, a government running record budget deficits, and a president who is also pursuing reform of America's costly healthcare system.
But Obama contends that the best way out of an economic funk is to look forward to the technologies that might potentially drive the economy in years ahead.
He became salesman-in-chief Tuesday, saying that savings on fuel costs will allow consumers to recoup the costs of the emissions upgrade within three years of a new car purchase.
The potential rewards for the environment and energy security are significant, too. The auto industry accounts for 17 percent of man-made carbon dioxide emissions in the US. Obama said his plan will reduce US oil consumption by an amount equal to a year's imports from four major oil-supplying nations, including Saudi Arabia.
---