No decision yet on Guantánamo detainees, Napolitano says
At a Monitor breakfast, the Homeland Security secretary also comments on border and immigration issues. But when asked if she's on the shortlist for the impending Supreme Court vacancy, she avoided the question.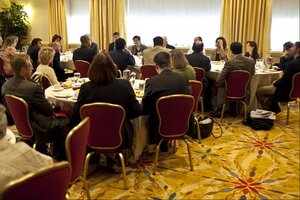 Michael Bonfigli
No final decisions have been made as to whether some terror suspects held at the US prison at Guantánamo Bay, Cuba, will be brought to the United States if the detention facility closes at the end of the year, said Secretary of Homeland Security Janet Napolitano at a Christian Science Monitor breakfast Tuesday.
A cabinet-level interagency group is reviewing the cases of Guantánamo detainees one by one. The Department of Homeland Security obviously is taking part in this scrutiny, Secretary Napolitano said.
"One of the reasons we are there is to bring to the table what would need to be done should a particular detainee be brought to the homeland, to make sure public-safety issues are planned for," Napolitano said at the breakfast.
President Obama has vowed that Guantánamo will be shuttered by January 2010, but he is running into opposition in Congress from members of both parties about the possible release of current Guantánamo prisoners on US soil.
In particular, lawmakers are exercised about 17 Uighurs – Turkish Muslims from western China – who were captured in Pakistan and Afghanistan in 2001 and have been held at Guantánamo ever since.
---
Follow Stories Like This
Get the Monitor stories you care about delivered to your inbox.