Can Schwarzenegger recover from voters' ballot-box blow?
Californians reject the governor's plans for budget reforms, leaving him politically damaged and with a $21.3 billion deficit to manage.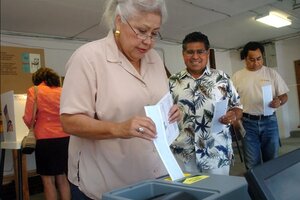 NEWSCOM
With bigger-than-life muscles and Austrian accent, Arnold Schwarzenegger sold himself to voters as the populist outsider who would fix California government by giving it back to the people. Six years later, it appears the people are dispatching the former actor with one of his most famous Hollywood rejoinders: "Hasta la vista, baby."
After besting a wide field in the state's first gubernatorial recall election in 2003, to replace Democratic Gov. Gray Davis, Mr. Schwarzenegger has had a tenure filled with bold successes and bold failures – most notably the rejection of four ballot initiatives in late 2004. Now, with voters soundly rejecting Schwarzenegger's second round of reforms, experts here are beginning to write his political obituary.
"Arnold's governorship was supposed to be an action movie. Now it's a disaster movie," says John Pitney, a political scientist at Claremont McKenna College in Claremont, Calif. "The best he can hope is that there will be survivors. He can plausibly argue that the [state's budget] crisis was not his fault, but it's clear that he has not been able to avert it."
Propositions 1A, 1B, 1C, 1D, and 1E were all defeated in Tuesday's special election, in which about 40 percent of voters turned out. The first promised a spending cap and a rainy-day reserve fund. A second provided new school funding. A third allowed the state to borrow against future lottery revenue. A fourth and fifth would have allowed the state to move tobacco-tax money and health funds to the state's general fund.
Voters approved a sixth initiative, 1F – which prohibits state legislators from giving themselves a raise when the budget is not balanced.
---