Why Democrats buckled to GOP fears on Guantánamo
The Senate denied Obama the money to shut down the prison, in part because Democrats didn't want to be seen as soft on terrorism.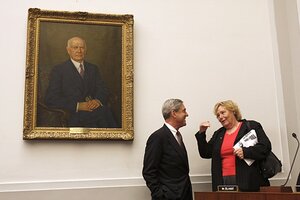 Harry Hamburg/AP
Wednesday's 90-to-6 vote in the Senate to block the closure of the Guantánamo detention facility followed a weeks-long Republican blitz, which argued that closing the military prison would "release deadly terrorists in American neighborhoods."
The issue comes at a time when many Democrats believe they have begun to chip away at the GOP's decades-long status as the trusted party on security issues. Some Democratic senators worried that closing Guantánamo – in the absence of a credible plan from the White House – might undermine that progress, allowing Republicans to cast them as soft on terror.
Democrats at first dismissed the argument. But by Wednesday, all but six Democrats voted with a united GOP caucus to strip $80 million earmarked for the closure of Guantánamo. It had been part of a $91.3 billion defense supplemental bill to fund the wars in Afghanistan and Iraq.
"It became NIMBY [Not In My Back Yard] on steroids," says Jennifer Duffy, a Senate analyst for the Cook Political Report in Washington.
---