Are investors in the US and abroad losing faith in the dollar?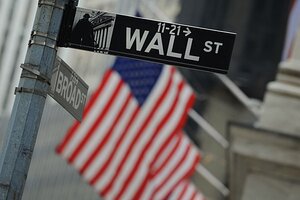 Stan Honda/AFP
A down trend in the US dollar is putting new focus on a longstanding concern -- that the world's greatest borrowing nation may be growing less creditworthy.
This week, the dollar has reached new lows against the euro for 2009, and it has also fallen sharply against some other major currencies.
It's a puzzle. Suddenly, investors have less faith in the greenback, even as the outlook for the American economy appears to be brightening.
Many forces drive currencies up and down, but one factor that could be weighing on the dollar is the risk that decades of debt -- by both households, businesses, and the government -- are causing foreign investors to look on the dollar as a more risky asset to hold.
Debt increases perception of risk
All that borrowing, including the cost of President Obama's fiscal stimulus spending to boost the economy, increases the perception of risk. Are US debtors, from the federal government to the cash-strapped state of California, going to default? Will the Federal Reserve resort to inflation -- debasing the value of dollar assets -- in its efforts to lift a debt-bound economy back to growth?
Such concerns appear to be weighing on the dollar this week, says Jay Bryson, a global economist at Wachovia Corp. in Charlotte, N.C.
Britain in trouble too
---