Sweeping climate-energy bill clears first big hurdle in Congress
The compromise measure would mandate reductions in greenhouse-gas emissions and require greater use of renewable energy. The Senate could be a major stumbling block.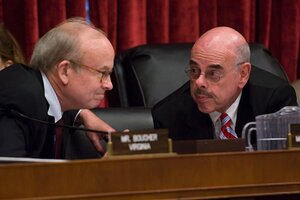 Scott J. Ferrell/Congressional Quarterly/Newscom
New climate-energy legislation approved by a key congressional committee marks what some are calling the most significant tipping point in US energy policy in 30 years, thrusting the economy toward renewable energy and away from fossil fuels.
The American Climate and Energy Act of 2009 (ACES) bill, approved by the House Energy and Commerce Committee Thursday evening, is the second major step this week by US political leaders to boost energy efficiency and curb global climate change.
The first step came a few days ago when President Obama toughened vehicle tailpipe standards. If the president is able to sign a climate-energy bill ahead of December climate talks in Copenhagen, as some suggest is now possible, the two measures would give the US – the world's largest greenhouse-gas emitter per capita – far more clout in shaping a multinational response to the climate problem.
"This is a historic breakthrough for clean energy and the environment," says Dan Lashof, climate center director for the Natural Resources Defense Council (NRDC). "It's now absolutely feasible to get this bill enacted into law this year – before Copenhagen – and to give the US renewed credibility going into those talks."
Energy and climate change linked
Because stemming carbon dioxide (CO2) emissions from burning fossil fuels is central to the climate conundrum, bill architects Reps. Henry Waxman (D) of California and Ed Markey (D) of Massachusetts combined the twin puzzles of energy and climate into one piece of legislation.
---