Burris tape stokes skepticism in Illinois
New recording raises fresh doubts about whether the senator used pay-for-play politics to get his seat.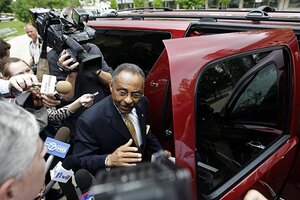 Jose M. Osorio/Chicago Tribune/MCT
Sen. Roland Burris's two-day tour through Illinois this week has become, at least partly, a damage-limitation exercise. Many state residents, it turns out, have new questions about how he got his seat.
On Wednesday, a federal judge unsealed a Nov. 13, 2008, recorded telephone exchange between Senator Burris and Robert Blagojevich, chief fundraiser for this brother, Rod, who was then governor of Illinois.
Rod Blagojevich has since been arrested on corruption charges, which included trying to sell the vacant Senate seat that once belonged to President Obama, and impeached. A US Senate ethics panel is investigating whether Senator Burris won that seat through pay-for-play politics.
During his tour of central Illinois to speak with local politicians and business leaders, Burris has been asked to defend himself. He has said the recording exonerates him. By the measure of comments made by a handful of Chicagoans Thursday, however, his constituents are skeptical.
The tape made Joyce Boyy of suburban Oak Park, Ill., "more convinced that everything wasn't done correctly."
She says her disappointment comes not from what she heard in the recording, but from Burris "steadfastly saying it was not pay-for play, [even though] it sounds like it."
The FBI wire transcript features Robert Blagojevich, who is also facing corruption charges, urging Burris to contribute to the governor's campaign fund. Burris repeatedly tells Blagojevich he wants "consideration for the appointment" and proposes to make a contribution in the name of Timothy Wright, his attorney, to avoid the payment from looking like he was "trying to buy an appointment."
---