Can government be trusted to steer a GM bankruptcy?
The Obama team is helping to push the automaker's debt holders, unions, and executives toward tough choices, but the risks of intervention are many.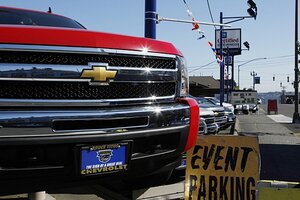 The economic news of the week isn't just that giant automaker General Motors is about to enter bankruptcy. It's also that the US government is the one who will be guiding the firm through the process.
In a country that prides itself on free-market capitalism, this will be an unusual politically orchestrated bankruptcy.
The government intervention could have good results. It may prevent a prominent industry from collapsing at a time when the nation is already reeling from recession. It appears to be helping to expedite the needed restructuring of GM and another struggling Detroit carmaker, Chrysler. An Obama task force has helped push various stakeholders toward tough choices – a pattern highlighted Friday as the autoworkers union announced that its GM labor force had voted 3 to 1 for a pay-cut plan.
At the same time, President Obama and his automotive task force are entering politically difficult terrain by trying to save the industry.
For one, the rescue will be costly to taxpayers – an estimated $50 billion and counting. For another, critics say the federal government, in its effort to resolve the companies' problems swiftly, is upending tried-and-true legal traditions that have underpinned the economy since America's founding. And at the end of the day, thousands of industry jobs will still be lost.
"They've opened themselves up to a lose-lose situation," says Don Grimes, an economist at a University of Michigan in Ann Arbor. Voters could end up being angry that their money is being used to prop up private corporations that failed, and also angry about job losses at dealerships or factories where they live.
---