GOP quandary: how hard to swing at Sotomayor
Republicans on Capitol Hill are acutely aware that the tone and content of the nominee's hearing could redefine the party after two punishing national elections.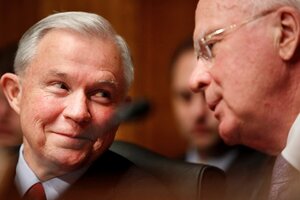 Manuel Balce Ceneta/AP
Republicans preparing for confirmation hearings for Judge Sonia Sotomayor see little prospect, barring surprises, of blocking her nomination to the US Supreme Court.
But many GOP lawmakers are acutely aware that the tone and content of the hearings could help to redefine the Republican Party after two punishing national elections – or further weaken it.
If Republicans are seen as unfairly attacking Judge Sotomayor, who would become the high court's first Hispanic justice, they risk alienating Latino and female voters the party will need to mount a comeback.
On the other hand, conservative activists, in a letter released Monday, say they expect Senate Republicans to "rise to the extraordinary educable moment that a Supreme Court nomination represents." They urged GOP lawmakers to "mobilize" their forces to give a full-throated debate of the nomination "from this moment until the final floor vote."
Dangers of attack
Sotomayor, who has served on the federal bench for 17 years, this week begins meetings with senators on Capitol Hill in her bid to replace retiring Justice David Souter. It's a tough issue for Republicans, probably one of several epic debates ahead as Democrats propose to overhaul healthcare, energy policy, and government oversight of industry and financial markets.
---