Why taxpayers won't get return on GM investment
The auto company would have to bounce back to sustained profits before the US government would get any money back.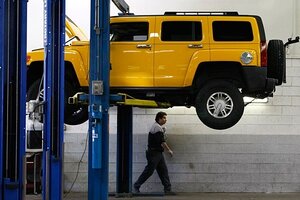 Rick Wilking/Reuters
American taxpayers are now investors in the auto industry, but make no mistake: This is a rescue mission, not a moneymaking proposition for the public.
Theoretically, it's possible that taxpayers could get their $50 billion back, if GM moves steadily into profitability and the government is able to sell its equity in the carmaker at a good price.
But many private economists say taxpayers shouldn't expect to get a whole lot of their money back.
"Most of it's gone," says Donald Grimes, an economist at the University of Michigan. "I think that's pretty much guaranteed."
How much taxpayers do get back depends on two key factors, he says. The first is whether the new GM can build vehicles that catch on with consumers. The second is whether the firm's cost structure has been adequately realigned for profitability in normal times.
Worst case: GM seeks more money
In a worst case for taxpayers, the carmaker may end up burning through the federal assistance and asking for more. Only 21 percent of Americans favor the bailout, according to a poll by Rasmussen Reports.
That is what Mr. Grimes says he expects, but GM and the Obama administration both played down that prospect this week.
General Motors CEO Fritz Henderson pledged that the firm's plan for a two- to three-month reorganization in bankruptcy will be successful.
"We will do it right, and we will do it once," he said Monday.
A senior Obama administration official said the White House is not expecting a Plan B either. "Never say never," the official said. But "this is it."
---
Follow Stories Like This
Get the Monitor stories you care about delivered to your inbox.