Sotomayor navigates Senate corridors on her way to confirmation hearing
Democrats push for July; GOP senators say they need more time to examine her record.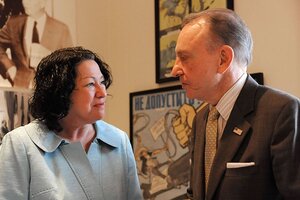 Susan Walsh/AP
In Week 1 of "courtesy calls" on Capitol Hill, Judge Sonia Sotomayor gave a genial, thoughtful face to a high-stakes nomination to the US Supreme Court.
Topics ranged from Nancy Drew mysteries to the doctrine of stare decisis (respect for legal precedent). But by week's end, she had won assurances on both sides of the aisle that her confirmation hearings (yet to be scheduled) will be fair and civil.
She also won a rare retraction from GOP activist and former House Speaker Newt Gingrich, who backed off an earlier comment that Sotomayor was a racist.
It'll be the third Senate confirmation hearing for the US Court of Appeals judge for the Second Circuit in New York. But nothing fully prepares one for the sprint and high intensity of a Supreme Court nomination.
A flash of aqua in a sea of somber-suited minders, Sotomayor fast-walked nonstop appointments between Senate offices this week. While she refrained from speaking directly to the press, senators who met with her offered a glimpse at how she is addressing concerns about her nomination.
---